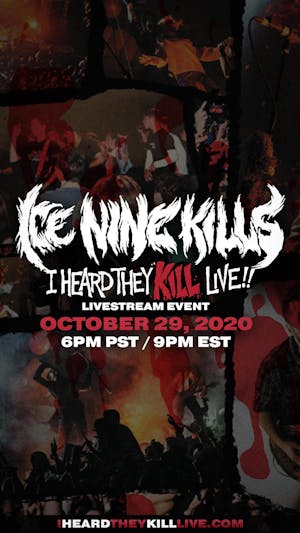 Ice Nine Kills: I Heard They Kill Live! Livestream Concert
,
$15.00
Sales Ended
On Ice Nine Kills
Don't miss a VERY special Halloween weekend Livestream from Ice Nine Kills! Tickets are on sale now with exclusive merch and vinyl available
ICE NINE KILLS presents I Heard They Kill Live!
A very special livestream concert event!
Tickets to the livestream start at $15 with multiple bundles including merch, vinyl, and more!
Ice Nine Kills is a metalcore group formed in Boston, Massachusetts in 2002, with founding members Spencer Charnas and Jeremy Schwartz, along with recruited drummer Grant Newsted in 2003 and bassist Hobie Boeschenstein in 2004. Originally claiming a ska-punk sound, the group released their first album "" on April 20th, 2006. The following year, the band signed with Red Blue Records and released their EP "" on November 20th. In mid-2009, Jeremy would leave the band, leaving Spencer as the only founding member. After recruiting from the recently-disbanded Remember Tomorrow, the band started to migrate towards a metalcore sound, which would lead to their signing with Ferret Music. On July 12th, 2010, the band released their second full-length album "". It wasn't until almost 3 years later that the band would release their second EP "" on January 15th, 2013. The following year, the band would release their third full-length album "" on January 21st through the newly-founded Outerloop Records. On September 17th, 2015, the group signed with Fearless Records, and together they worked to release their fourth album "" the same year on December 4th. On January 6th, 2017, the group released a re-recorded version of "Safe Is Just A Shadow" in an effort to show off the evolution of the production and musical skills behind the album. June 14th, 2018 would see Conor Sullivan's departure from the band to pursue different musical projects. 6 days later, the group released their music video for "The American Nightmare", the first single off their new album "", which was released on October 5th, 2018.
Venue Information: