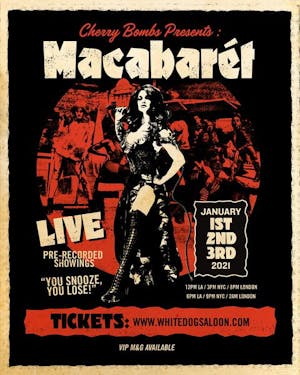 Presented by Come and Take It Productions
CHERRY BOMBS presents MACABARÉT
Online Event
Austin
,
TX
$17.00 - $20.00
On Cherry Bombs
CHERRY BOMBS presents MACABARÉT
Join us for the virtual premier of CHERRY BOMBS presents MACABARÉT. A cinematic, next-step evolution of the The Cherry Bombs performance troupe already high-octane show, combining daring skill-sets in a framework of dance and rock n roll.
Visually stunning and sonically intense, 'Macabarét' follows the story of an out-of-luck man entangled in a delicious web of torment and retribution. When he finds himself stranded in the middle of nowhere, he makes his way to the unassuming White Dog Saloon, hoping for help. What he finds is a taste of his own medicine.
Tickets can be purchased here: http://whitedogsaloon.com?aff=11
Venue Information:
Online Event
2015 E. Riverside Dr.
Bldg. 4
Austin, TX, 78741