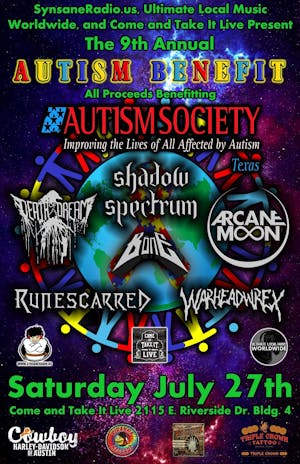 Presented by Come and Take It Productions
Shadow Spectrum
Death of a Dream, Arcane Moon, Böne, Runescarred, Warheadwrex
Come and Take It Live
Austin
,
TX
FREE for 21+ and only $5 for minors!
Come and Take It Live, SynSane Radio and Ultimate Local Music Worldwide present the 9TH ANNUAL AUTISM SOCIETY BENEFIT SHOW!
SHADOW SPECTRUM
DEATH OF A DREAM
ARCANE MOON
BÖNE
RUNESCARRED
WARHEADWREX
It's time for the 9th Annual Benefit for the Autism Society of Texas. Brought to you by SynsaneRadio.us, Ultimate Local Music Worldwide and Come and Take it Live.
This year is no exception: six of the best bands in Austin playing for FREE for one hell of a cause. Come on out to Come and Take it Live on July 27th for ear blistering metal, plus raffle items from Cowboy Harley-Davidson of Austin, Piranha Records, Triple Crown Tattoo Parlour and Amillion Tattoo (both brought to you by Scott Ellis: world renowned for his skill and generosity).
Admission is FREE for attendants over the age of 21, and only $5.00 for minors!
www.comeandtakeitproductions.com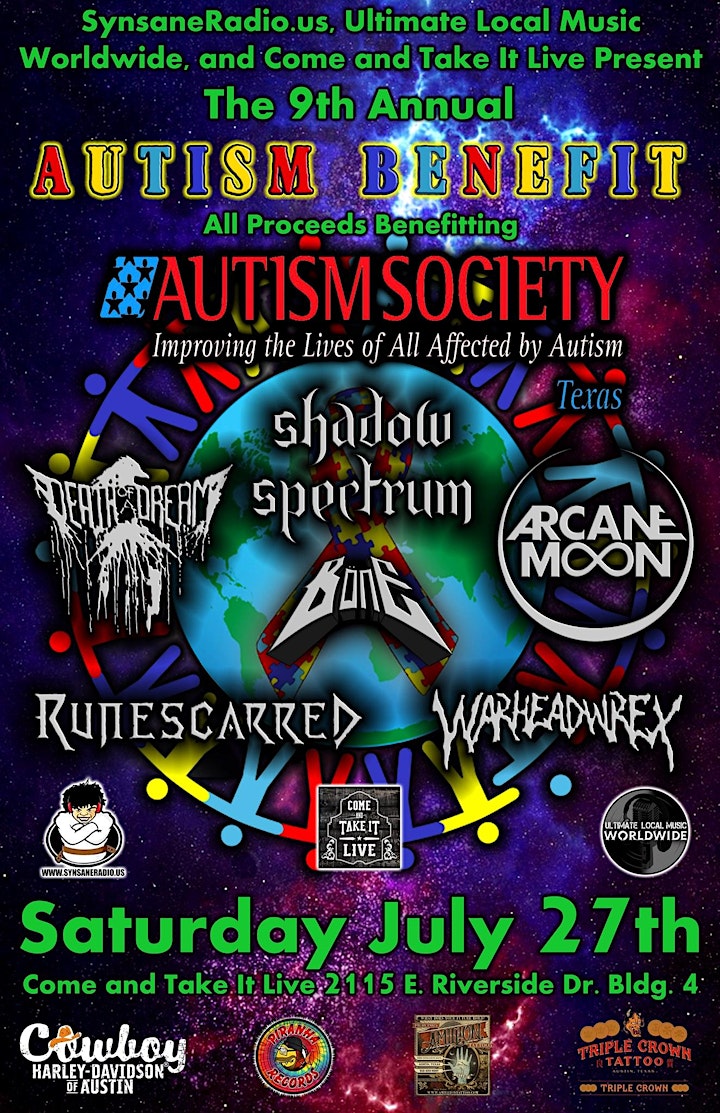 Venue Information:
Come and Take It Live
2015 E. Riverside Dr.
Bldg. 4
Austin, TX, 78741